R&D and Technology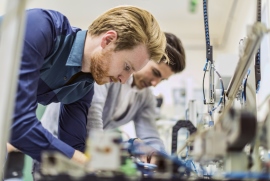 Plastics NZ encourages innovation, design excellence and business growth through its close relationship with a number of research & development (R&D) and technology groups including Callaghan Innovation. Working with our members in R&D gives them access to information and new technologies which will help grow their businesses.
Many of our members have great ideas and concepts that need further development or help with routes to market. We are able to guide our members through the process of who to talk to and how to gain funding. We also work with our research partners including tertiary institutions, to undertake customer focussed research.
Our biennial Industry Design Awards showcase the best we have to offer and showcases the level of expertise and innovation of individual companies. The aim of the awards is highlight the world class capabilities of the New Zealand plastics industry.
We have worked closely with the EECA to provide energy efficiency audits to a number of our member companies. Following the audits Members were advised of energy saving technology which would allow them to cut their energy usage by around 15%.