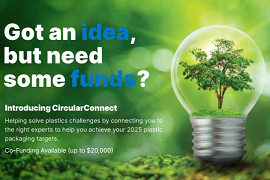 11
May
Spotlight on Circularity: Pursuing Circularity
Are you interested in sustainability, but don't know where to start? Have you heard about the circular economy, but you're not sure what projects will have the greatest impact?

Perhaps you're looking to …
Redesign your product or packaging to minimize the amount of plastic you're using?
Ensure your product or packaging is effectively recycled in the NZ resource recovery system?
Recover plastic materials to ensure they don't go to landfill, and give that material another life?
Design your products so that they're easy to repair?
Get in touch to see if your business could qualify for CO-FUNDING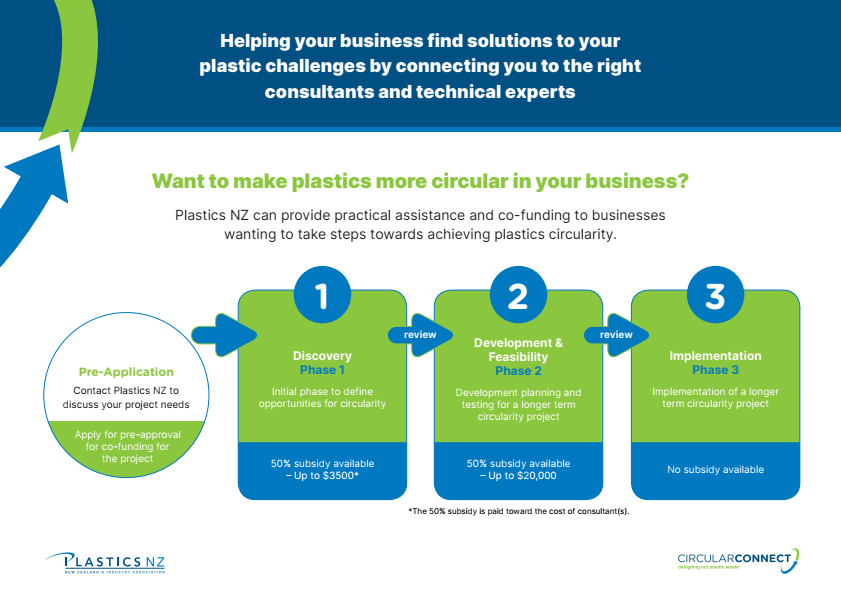 How it works
(1) Get in touch with Plastics NZ if you or a business you work with wants to get more circular in the plastics you create or use. We'll have a quick preliminary discussion to determine if the project will fit the funding criteria for Circular Connect.
(2) Complete a short Application Form.
(3) We'll connect you with 2-3 potential experts who can help if you don't have someone you work with already. You can then decide which expert you think will work with your organisation best.
(4) We sign a Funding Agreement which details the specifics of the project, the level of funding and the dates for completion.
(5) Get started on your circular plastics project!
Find out more
If you or one of your customers is interested in learning more about CircularConnect, go to https://www.plastics.org.nz/environment/circular-connect.
OR
Contact Sandy Botterill, Circular Economy Manager on 027 535 3298 or This email address is being protected from spambots. You need JavaScript enabled to view it..
CircularConnect forms part of the programme of work co-funded by the Ministry for the Environment's Waste Minimisation Fund to advance the new plastics economy in Aotearoa New Zealand.