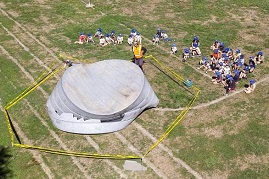 15
Mar
Real Life Recycling Lessons for school kids
Gyro Plastics and Vision Plastics stepped up to help out a local school in the Manawatu after someone dumped a broken 20,000 litre water tank on their school field in March 2022.

The children got a real-life lesson and the opportunity to learn about sustainability and recycling when staff from Gyro Plastics turned up to take it away to be recycled. The tank was chopped into sections, put on a trailer and removed from the school field. It was taken to Gyro Plastics where it will be will be washed and chopped into smaller pieces, before being shipped to Vision Plastics, to be ground into powder for recycling.

This is a fabulous example of the Plastics Industry coming together to find solutions for littering problems in their local community.
Well done team!

View the full news story here