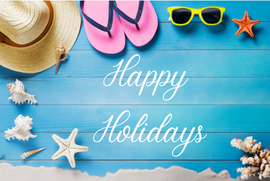 01
Dec
Seasons Greetings & Office Closures 2021
Plastics New Zealand wishes all of its Members, their employees and families a safe and happy holiday season. Enjoy this time and make the most of the festive season. We certainly will be!
For the second year in a row, 2021 has been a most unusual, difficult and disruptive time for many. The top half of the North Island have especially had it hard with many of them spending the equivalent of 4 months in lockdown. We hope you take the time during the holiday season to rest your body and mind, and recharge and energise yourself for the future ahead.
Relax with family and friends and enjoy this holiday period together doing things you love.
Plastics New Zealand staff will be:
Catching up with friends and family in person, in backyards, inside houses and at local cafes and restaurants once again, and likely attempting to tame the wildness of our hair prior to the start of the festive season.

Trying not to talk about plastics and recycling with our friends and family (probably not too successfully!)

Possibly indulging in a spot of local travel and leaving the big smoke of Auckland to view the rest of the country.
We look forward to seeing you in 2022!!
THE PLASTICS NEW ZEALAND TEAM
Plastics New Zealand will be closed for the Holiday Season from Friday 17th December 2021 and will re-open on Monday 17th January 2022.