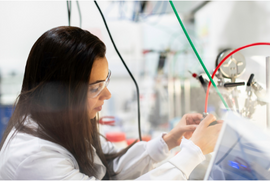 08
Nov
$50M Plastic Innovation Fund Open Now
Have you got a project that would reduce plastic waste? Does it need some financial help to meet your ROI criteria? A new fund opened on 1 November 2021 that aims to help get innovative plastic projects over the line.
The Ministry for Environment $50 million Plastic Innovation Fund is available over 4 years, with companies able to apply for 50% of the cost of a project. Your project must be bigger than $100,000 (i.e. minimum of $50,000 in funding), or a scoping/feasibility study that is bigger than $40,000 (minimum of $20,000 funding).
There are more details on the criteria of the fund here
Here are a few scenarios to get your creative juices flowing:
Redesign your product or packaging to make it with NZ-sourced recycled polymer.
The fund might be used towards creating a partnership with a recycler to create the quality of material you need. It could include half the cost of any additional plant or equipment needed for your manufacturing process to allow you to incorporate recycled material.
Disruptive design idea.
Could you create a circular product that will completely disrupt a market? Start with some R&D funding from the PIF to explore your idea.
Do you have the spark of an idea but you're not sure if it will work?
Use the fund to research the feasibility of as really innovative project. Feasibility/R&D projects are eligible for 50% funding, as long as the funding amount is higher than $20,000.
Make a product or packaging more recyclable.
Is it possible to change your product from a polymer that is difficult to recycle (e.g. PVC) to a polymer that can be fully recycled within NZ (e.g. PET)?
Could you change your product from multi-polymer to a more recyclable mono-polymer?
Perhaps this could be a partnership between you and one of your brandowner customers?
Use the fund to review the scope and technical feasibility of doing this. If it proves feasible you could also apply to the fund to invest in any manufacturing equipment changes needed.
Set up a takeback and recycling programme
Could you offer your customers a takeback programme to recycle your product back into new product? Use the fund to investigate the feasibility and then design and establish a takeback programme.
Redesign a manufacturing process to eliminate waste.
Do you produce a significant volume of plastic offcuts, trimmings or other plastic waste?
Even if this material is something that is recycled, it would be even better to eliminate the waste completely. Apply to the fund to make changes in your manufacturing process, or purchase new equipment, that will prevent waste.
Develop an innovative recycling solution.
Could new polymer recycling technologies be developed here in New Zealand? Could a chemical recycling solution that turns plastic waste back into monomers for re-making plastics be developed for small volume markets like NZ?
You could apply to the fund to research this possibility.
This is just a small selection of ideas. The potential is huge. Have you got good ideas?
Call us at Plastics NZ and we can help guide you on how to maximise the potential of this new fund. We will also try and support you with data and feedback wherever we can.

It may also be possible to apply for funding through CircularConnect, Plastics NZ's design advisory service, to undertake preliminary work before applying for the Plastics Innovation Fund. Contact Sandy Botterill, Circular Economy Manager, Plastics NZ to find out more: This email address is being protected from spambots. You need JavaScript enabled to view it..

All discussions will remain confidential, and we are happy to sign non-disclosure agreements, if needed.
More details about the Plastic Innovation Fund, including a recorded webinar, can be found on Ministry for Environment website here:
https://environment.govt.nz/what-you-can-do/funding/plastics-innovation-fund/