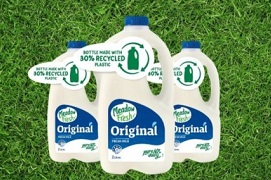 13
Oct
Recycled content in milk bottles 'significant' move for the country
The launch of the Meadow Fresh milk bottles containing 30% recycled HDPE content is a "really significant" moment for NZ as part of its waste strategy and movement towards a circular economy.

While there are lots of examples of recycled PET plastics used for food and beverage containers, this is the first example of locally manufactured food grade HDPE packaging being used that contains recycled content.
Utilisation of recycled content is an important part of our transition to a low-emissions circular economy. It provides the pull-through and economic value for the plastics we put in our recycling bins.
Pact Group is now manufacturing all Meadow Fresh one and two-litre fresh milk bottles with 30 per cent food-grade rHDPE; reducing the amount of virgin plastic used by 250 tonnes annually. The goal is to use 100 per cent recycled HDPE for the bottles by the end of the decade.
The new bottles don't contain white resin, which allow for the bottles to be recycled into new plastic bottles and other food packaging. Previous bottles could only be used in non-food packaging items like crates and building products. Plastics with no colour have a higher market value, as it means they can be used in a much bigger number of end-markets.
The launch of this product into the market provides a strong incentive for local sorting and re-processing of dairy containers back into food-grade material. This is very timely with the government's $50 million Plastics Innovation Fund opening up on November 1.
Media Releases & News Articles
https://pactgroup.com/news/pact-group-partners-with-goodman-fielders-meadow-fresh-brand-to-launch-the-first-recycled-hdpe-milk-bottle-in-new-zealand/
https://www.stuff.co.nz/business/126653258/recycled-content-in-meadow-fresh-milk-bottles-significant-move-for-the-country