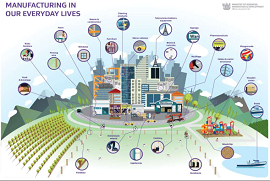 05
Jul
Advanced Manufacturing ITP
Development of the Advanced Manufacturing Industry Transformation Plan will be led by a steering group and broader engagement with the sector will occur through engaging regularly with a wider group of key stakeholders, a series of working groups, and regional workshops.

Plastics NZ CEO, Rachel Barker, has been invited to sit on the steering group leading the development of the Advanced Manufacturing Industry Transformation Plan for New Zealand.
'I'm excited to be part of this steering group leading a collaborative approach of business, union, government and Māori. Change needs to be backed by strong science, and is absolutely critical for achieving the step-change in productivity needed within our manufacturing sector."

The industry transformation plan will focus on:
Building the sector's capability across skills, capital and innovation, environmental sustainability, and global connections.
Building on competitive advantage in the sector through identifying and supporting high growth areas within manufacturing.
If you're interested in following the progress of the Advanced Manufacturing Industry Transformation Plan, you can register to stay informed by emailing This email address is being protected from spambots. You need JavaScript enabled to view it.
Further information regarding the Industry Transformation Plans can be found here
https://www.mbie.govt.nz/business-and-employment/economic-development/industry-policy/industry-transformation-plans