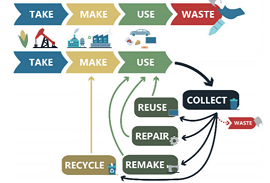 07
May
Spotlight on Circularity Programmes: May 2021 Update
As part of the Plastics New Zealand 'Advancing the Circular Economy for Plastics' Programme the Design Advisory Service is launching the pilot of 'Circular Connect' and provides an update on the Polypropylene Working Group progress.
Spotlight on Circularity: What's in a name?
The Design Advisory Service has just adopted a new brand - Circular Connect. We wanted the name to describe the essence of the service which is all about connecting businesses with expert consultants who can help them design out plastic waste from their products and packaging. The vision of Circular Connect is to create a more sustainable Aotearoa New Zealand with less waste by embracing circularity in the design of our systems, products and packaging.
How it works
We have just launched the pilot of Circular Connect and here's how it works:
(1) Get in touch with Plastics NZ if you or a business you work with wants to get more circular in the plastics you create or use. We'll have a quick preliminary discussion to determine if the project will fit the funding criteria for Circular Connect.
(2) Complete a short application form.
(3) We'll connect you with 2-3 potential experts who can help if you don't have someone you work with already. You can then decide which expert you think will work with your organisation best.
(4) We sign a funding agreement which details the specifics of the project, the level of funding and the dates for completion.
(5) Get started on the circular plastics project!
DESIGN ADVISORY SUBSIDY
· Phase 1: Discovery – Plastics NZ will be able to subsidise 50% of the cost of the consulting (up to $3,500)
· Phase 2: Action Planning - Plastics NZ will be able to subsidise 50% of the cost of the consulting (up to $20,000)
· Phase 3: Implementation - There is no subsidy available for this phase
Watch this space to learn more about Circular Connect and how we can help advance the circular economy for plastics in Aotearoa New Zealand.
If you'd like to find out more, please contact Sandy Botterill, Circular Economy Manager on 027 535 3298 or This email address is being protected from spambots. You need JavaScript enabled to view it..
The Design Advisory forms part of the programme of work funded by the Ministry for the Environment's Waste Minimisation Fund to advance the new plastics economy in Aotearoa New Zealand.
Advancing the Circular Economy for Plastics: Polypropylene (#5) in Aotearoa NZ
Plastics NZ is facilitating a national working group to help create circular pathways for polypropylene (#5) in NZ. This working group is part of Plastics NZ's 'Advancing the Circular Economy for Plastics" programme which is aimed at helping Aotearoa NZ create a low emissions circular economy.
Polypropylene ("PP") was selected as Plastics NZ's first working group as recycled PP is a highly recyclable and sought after material with value in the NZ market. The working group had representatives from WasteMINZ, waste management companies, plastics reprocessors and manufacturers, retailers, tangata whenua, youth and was led by Plastics NZ.
So what's happening?
There's been good progress against the actions from the first working group meeting:
There are approximately 20 councils around Aotearoa NZ that aren't yet collecting PP. We've identified to approach the councils with the largest population bases as a first step to see what the barriers were for collection, and to see if there was any help we could provide to overcome these barriers.
Two of the largest population bases, Tauranga City Council and Hutt City Council are both starting PP collection as of 1 July 2021. The next largest regions by way of population densities are:
Whangarei (population 91,400)
Hastings (population 88,000)
Far North (population 68,000)
Napier (population 65,000)
Porirua (population 59,600)
Western BOP (population 53,900)
Meetings with each of the councils within these regions are underway. A key insight which continues to be highlighted by councils is that they don't have easy access to information about the nature and state of plastics market in NZ and they are unsure who the buyers of different materials are. Being able to connect councils to this kind of information would be a good step forward not just for PP, but for other plastics material streams as well.
Once we achieve a critical mass of councils collecting PP around the country, that will open the possibility of undertaking a nationwide marketing campaign around the recyclability and the stories of what is actually happening onshore and the products and packaging that are being created from rPP.
Next meeting
The next meeting is scheduled for 8 June 2021.
If you'd like to find out more, please contact Sandy Botterill, Circular Economy Manager on 027 535 3298 or This email address is being protected from spambots. You need JavaScript enabled to view it..
Plastics NZ's facilitation of working groups forms part of Plastics NZ's 'Advancing the Circular Economy for Plastics" programme, funded by the Ministry for the Environment's Waste Minimisation.