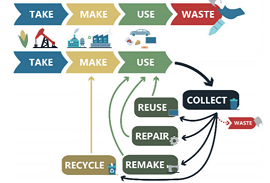 09
Feb
Spotlight on Circularity: Design Advisory Service
Plastics NZ has kicked off its project to set up a Design Advisory Service. This project forms part of the programme of work funded by the Ministry for the Environment's Waste Minimisation Fund to advance the new plastics economy in Aotearoa New Zealand.
The aim of the Design Advisory Service is to help businesses in NZ solve product, packaging, and systems challenges. By embracing circularity in the design of our systems, products, and packaging, we can create a more sustainable world with less waste.
Businesses want to make good decisions for our environment. There is also mounting pressure from consumers and retailers to 'do the right thing'. That said, there is so much, and at times conflicting information, that make it difficult to navigate the options. This is where the Design Advisory Service can help. Offering expert advice (technical, design, sustainability/circular) to help business make sound, well founded decisions in relation to their product development, packaging, and wider systems initiatives.
Our working model is that a client will approach Plastics NZ with a problem they are trying to solve. Plastics NZ will recommend consultants that have the right skills and expertise. The client will then choose a consultant to work with. We envisage a three-phased approach to the consulting:
Phase 1: Discovery (40 hrs) – Plastics NZ will be able to subsidize 50% of the cost of the consulting (up to $3,500).
Phase 2: Action Planning (approx. 200-240 hrs) - Plastics NZ will be able to subsidize 50% of the cost of the consulting (up to $20,000).
Phase 3: Implementation (No set timeframe) - There is no subsidy available for this phase.
We are currently testing this idea and model with manufacturers, brands, and consultants. If you'd like to be involved, please contact Sandy Botterill, Circular Economy Manager on 027 535 3298 or This email address is being protected from spambots. You need JavaScript enabled to view it..