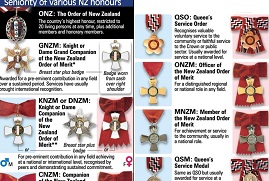 11
Jan
New Years Honours for Two PNZ Members
Two long standing PNZ Members were recognised in the New Years Honours list for their services to Business and (Plastics) Manufacturing. Our congratulations to Murray Fenton and Tom Thomson who were recognized with Citations for Officers of the New Zealand Order of Merit (ONZM).
New Year Honours 2019 - Citations for Officers of the New Zealand Order of Merit
To be an Officer of the said Order:
FENTON, Mr Murray Edward
For services to design and business
Mr Murray Fenton is the founder, sole owner and managing director of Adept, New Zealand's leading plastic injection-moulding company.
Mr Fenton developed Adept by constructing an injection-moulding machine in his back yard and over the following 48 years grew the company to employ more than 100 people with an annual revenue of $25 million. Adept began by manufacturing products for the meat industry and has been a long-time contract manufacturer for other New Zealand companies such as Fisher and Paykel Healthcare. Adept's beef clip, developed in 1977, became and remains the meat industry standard having sold more than two billon units worldwide.
Mr Fenton also developed and manufactured a lens case for the Fred Hollows Foundation. Products made by Adept have received multiple industry awards, including STARBoard, a carbon fibre adjustable arm support product for radial artery access medical procedures, which received a gold medal in the process category, gold in the product category, and the overall Supreme Award winner of the 2012 New Zealand Plastics Industry Design Awards.
To be an Officer of the said Order:
THOMSON, Mr Thomas Dawson (Tom)
For services to the manufacturing industry, philanthropy and the community
Mr Tom Thomson co-owns Elastomer Product Limited (EPL), which has more than 100 staff operating in Christchurch and Thailand, and has been a leader and innovator in the manufacturing sector for almost 44 years.
Under Mr Thomson's leadership as Technical Director and Managing Director, EPL introduced new plastic polymers to the New Zealand market and has worked closely with leading New Zealand manufacturers such as Fisher and Paykel. He was National President of Plastics New Zealand from 1998 to 2000 and President of the New Zealand Manufacturers and Exporters Association from 2014 to 2016.
He was a key driver in setting up training programmes and standards behind a qualification in plastics manufacturing and technology. Through EPL he has been a long-time supporter of Westpac Trust Rescue Helicopter and has donated to other charities including Ronald McDonald House. He has been a founding member of the informal Cads Society of industry stalwarts, which has funded a number of community initiatives including guide dogs, scholarships for young people, and training events. Within the wider community Mr Thomson has been an honorary fisheries officer, Deputy Controller at the Motunau Rural Fire Force, a member of the Canterbury Museum Trust Board and of the Forest and Rural Fire Association of New Zealand.