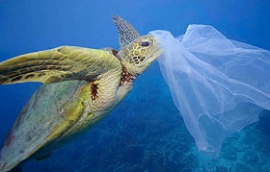 24
May
Are compostable bags actually helping the environment?
European researchers are warning companies and consumers to think twice about using a biodegradable bag over a plastic one.
Last week, The Warehouse Group announced it was replacing single-use plastic bags at its checkouts with compostable bags from the end of the year. ​This follows a move by Farro Fresh to do the same.
However, the British review, which looked into how bags break down in water, found there were insufficient standards and testing methods to figure out how bags break down.
AUT engineering professor Thomas Neitzert​ said the research destroyed the thinking that a plastic bag labelled "biodegradable" was safe for the environment.
"The current standards are not taking properly into account real-life conditions and are therefore underestimating the break-down times of plastic materials.
"The standards are also not accounting for the damage of break-down particles on marine life when they are digested," Neitzert said.
Packaging NZ executive director Sharon Humphreys said compostable bags were not the best alternative to plastic bags as New Zealand did not have the infrastructure to efficiently dispose of them.
"If your aim is to stop pictures of turtles eating plastic bags, then a compostable bag is not the solution because a compostable bag will not compost in the ocean.
"Similarly, if you are wanting a bag that won't end up in landfill – quite honestly, unless it feeds into a closed loop solution at this moment in time, landfill is your only option, because there isn't the compost infrastructure, or the recovery systems to deal with these compostable bags."
Industrial compost company Envirofert collects green waste and compostable packaging from the Auckland, Waikato and Bay of Plenty regions.
Operations manager Paul Yearbury said it was difficult to sort out what items could be composted because of poor labelling.
Plant-based compostable bags fit into its 22-week cycle for composting, but biodegradable products did not, he said.
"Biodegradable plastic is basically just plastic. Everything is biodegradable if given enough time."
"It's good to see people's attitudes are changing and big companies are trying to do the right thing, but it's a hard one for us because we have to protect what goes into our compost, and it's very hard to pick between what can be broken down and what can't be."
Boutique supermarket Farro Fresh, which will introduce plant-based compostable bags later this year, said it was an interim step to help transition to reusable bags.
The compostable bags were certified to compost in less than 180 days in an industrial compost facility and within a year in standard composts in customers' homes.
Foodstuffs sustainability manager Mike Sammons​ said compostable bags would not be made available in its supermarkets, as they were not the best outcome for the New Zealand environment.
"Many of them end up breaking down into micro plastics in our landfills and waterways."
At the moment, compostable bags were not accepted in commercial composting operation from kerbside collections for fear of the general public not distinguishing the compostable from standard plastic, Sammons said.
Compostable plastics were also considered a contaminant in standard plastics kerbside recycling system, he said.
Foodstuffs would be removing single-use plastic bags at New World, Pak 'n Save, and Four Square checkouts by the end of this year. The company is currently trialling heavy-duty plastic and paper bags as alternatives.
A heavy duty reusable plastic bag could be used a number times before entering the soft plastics recycling stream, while a paper grocery bag could go in kerbside recycling bins.
The different plastics
Degradable: A standard plastic with a chemical added that disintegrates the bag into tiny pieces of plastic
Foodstuff's verdict: Environmentally damaging as tiny pieces of plastic will remain in environment for a very long time and will be impossible to clean up
Biodegradable: Unregulated and not guaranteed to break down or do so without any residue
Foodstuff's verdict: Potentially environmentally damaging
Compostable: There are two types, home compostable and commercially compostable. The majority of rigid bio-plastics are only compostable in a municipal composting environment, where they require moisture and temperatures of 70 deg C minimum to break down.
Foodstuffs verdict: If all bio-plastics were guaranteed to be correctly disposed of to appropriate composting environments, this would be arguably better than standard single use plastics.
However, they are not, and there are major flaws in the end of life disposal of these items meaning only a tiny percentage would ever be composted.
The reality is the majority will go to landfill where they are unlikely to break down.
Source: https://www.stuff.co.nz/business/104129938/are-compostable-bags-actually-helping-the-environment